project leader

Christopher T

location

(Washington Heights)

latest update rss
the project
Dirt for Highbridge BMX Jump Park is an initiative that compells YOU to donate your time or money (or both:) to help restore NYC's most progressive dirt-terrain park to a smooth, low maintenance riding surface, with more features, terrain, and progression than ever before.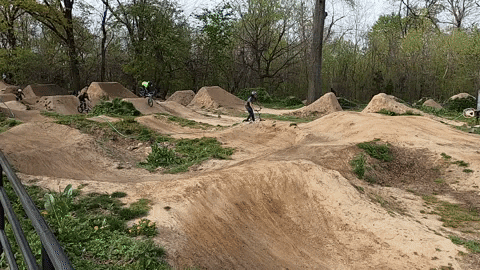 Highbridge Bike Park is one of three New York City parks that allow cyclists a safe place to progress their off-road bike skills.  The trail system here is a multi-discipline training facility, featuring 3.5 miles of cross-country, downhill, enduro and freeride trails. Terrain such as jumps, drops, berms, steeps, rock gardens, and East coast "gnar" the region is known for can be found here, making it a great place for riders of all ages and abilities to enter the sport and improve their skills.
The most-used feature of Highbridge Park however is the BMX dirt jump park. Two pump tracks and jump lines with beginner and intermediate level tabletop jumps teach riders to get airborne. The pro line drops into a set of steep doubles, and transitions into a mini slopestyle inspired course with multiple hip jumps, step up/downs and berms. Highbridge gives local kids a neighborhood zone to one up their skills and sample a bit of everything- jumps, drops and trail riding all in one place, just blocks from the #1 train.
With your help, Highbridge Jump Park will be restored with fresh dirt to rebuild the riding surfaces into a smooth easy to maintain condition. A new progressive expert jump line, and new terrain features and connections to the pumptrack and slope course will round out the project making for an exceptional riding season in 2022!
the steps
Tell Your Friends!
The City Parks Foundation and Partnerships for Parks have graciously stepped up to help us advance our goal quickly, offering over $2500 in matching funds to help restore YOUR jump park!  This means that each dollar you contribute is INSTANTLY doubled up to the $2500 mark. It has never been easier for YOU to double your impact, and make Highbridge a great place to send! Help us spread the good word, and lets smash this goal together!
Bring On The Dirt!
With your support dirt will be brought in -and lots of it. The $7000 goal is intended to produce roughly 60 tons of clean, sticky dirt that will be delivered and placed onto the track during the spring of 2022. If we can meet our goal earlier, we will start bringing dirt in earlier so that YOU can have a longer season to ride it!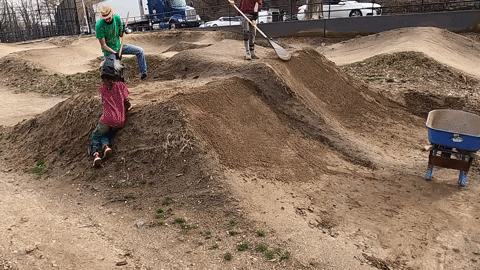 Volunteer and Get Dirty With Us!
This massive quantity of dirt will require a great deal of labor to move and place onto the track. Volunteers will move material onto the track during weekly workdays beginning in March, and stretching into May or beyond. Keep an eye out for volunteer days advertised on our eventbrite page at : www.nycmtb.eventbrite.com in the spring!
why we're doing it
For the Kids!
Only three NYC parks allow mountain biking, and all are volunteer built and maintained by dedicated riders and builders. Anyone who has ever dug or ridden at Highbridge, already knows the sacrifice it takes just to get a few good laps in. Flat tires, countless hours spent resurfacing the track after every rain storm, and endless rocks, sand, and garbage coming out of the earth are an impediment to good times. It's not surprising the park remains underutilized in a neighborhood where many youth are struggling just to survive.
For those uninitiated with Highbridge, the BMX Jump park here is comprised of dirty landfill excavated from the site. This means constant, daily maintenance to remove the rocks, broken glass, trash, bricks, concrete rubble, and sand that become exposed through erosion and regular use. This effort is required every single day in order to maintain a safe, smooth riding surface, and is carried out by volunteers whose time could be better spent building new terrain elsewhere in the park. The existing sandy material does not retain moisture, and crumbles when dry, requiring constant hand watering to retain its shape and compaction during the hot summer months.
Photo Credit:TGR/UnReal -"Dirt Blizzard"
Preparing for the Future of BMX in NYC
The impact of this campaign will be measured by the hundreds of volunteer hours required to spread a thick layer of clean base material over the track. Through these efforts, much improved riding conditions and a revitalized interest and awareness in the BMX jump park will inspire ridership and volunteer participation like never before.
This project is a pilot for what will become a series of annual giving campaigns which will advance long term goals at Highbridge Jump Park including the placement over 600 tons of fresh material across the site over the next decade, asphalt paving the pumptracks, and the development of freestyle BMX programming that will inspire youth to ride competitively.
Please consider a gift today, and watch how your impact helps transform Highbridge Bike Park into the most progressive urban bike park in North America!
budget
Disbursed budget 4/1/2022
Hired independent-contractors to transport dirt $2,920
Tools and Materials $3,091
Water, Food, Gloves for Volunteers = $357.36
| | |
| --- | --- |
| TOTAL RAISED = | $6,488.00 |
| ioby Fiscal Sponsorship Fee (5%) | N/A |
| ioby Donation Processing Fee (3%) | $119.64 |
| TOTAL TO DISBURSE= | $6,368.36 |
Clay Dirt, $97/ton delivered x 60 Tons = $5280
Equipment Rental $250/Day x 4 days =$1000
Water, Food, Gloves for Volunteers = $720



TOTAL PROJECT FUNDING NEEDED
$7,000
ioby Fiscal Sponsorship Fee (5%)
N/A
ioby Donation Processing Fee (3%)
(Donation processing fee does not apply to match funding.)
$107
TOTAL TO RAISE=
$7,107
Donation processing fees apply to donations only. 100% of match funding goes to projects. Please note, fees are estimated here and final numbers may change based on the final amount raised and amount of match funding applied to this campaign.
updates
Sorry, but this project doesn't have any updates yet.
photos
This is where photos will go once we build flickr integration